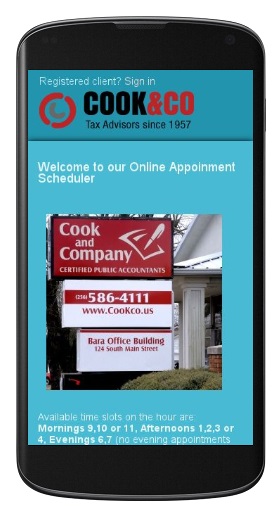 Schedule Your Appointment Online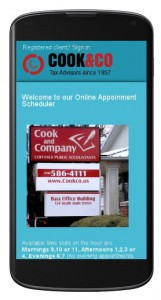 Rather than calling, simply click the appointment link at the top of any page on our website. It's simple, easy and faster than calling! Select your desired Accountant and the date and time. That's it. You will receive a confirmation email and an email reminder of your appointment on the day before your scheduled visit.
If you elect, you can also receive a text message reminder of your next appointment to your cell phone. This is just one more example of our use of secure technology to provide service and convenience to our clientele. Make the click today!
Other advantages include the option of changing accountants without the need to discuss it with the Receptionist, the process is much faster due to the fact that the client can quickly browse openings without the Receptionist paging through multiple pages to locate openings.
The digital Appointment Calendar has other improvements over the old manual process as well. This system will prevent "double booking" any Agent on the same time slot. In the past a double booking error was possible if the Receptionist inadvertently recorded an appointment in the wrong space. So the client can be assured that the given time is blocked-out for them and them alone. When a client makes an appointment with our system, that appointment is visible only to the client and us. All other only see that a particular time slot is unavailable.
By removing control over the appointment process from our Receptionist and turning that control over to the client, everyone benefits. The system is available 24/7! Don't feel rushed to make a decision. Review your calendar. Discuss options with your spouse. Take your time!

News from Cook & Co. Tax Advisors at 124 South Main Street in Arab, Alabama.

Latest posts by Gregory J. Cook, EA, CPA (see all)