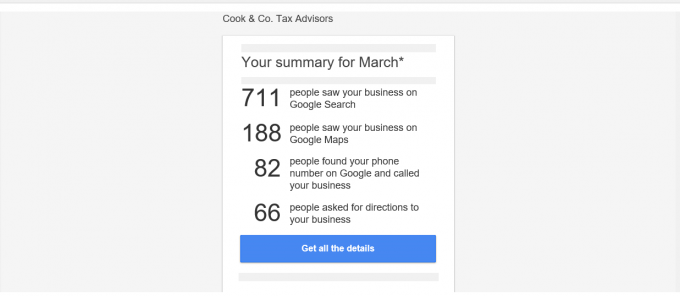 Our Google Activity in March
As our 2017 tax filing season comes to a close, I want to express my appreciation to all of the staff for a job well done.
I need to recognize our seasonal employees that come in to make it possible for us to handle such a heavy workload in a very short time frame. These people have done the best job for us and our clientele. As of Tuesday April 11th we had filed 1,976 tax returns and we still have 7 days to go! I think we will set a record this year with the number of returns filed by the deadline as well as the number of extensions that have been requested by clients.
As many of you know, I lost my younger brother just before last tax season began. Last season was very difficult for me, but I feel like I have come to terms with his death and the stress it caused. Assisting clients with the financial aspects of losing a family member is something that we routinely do. Understanding how a person feels about the loss of a family member to death is something you cannot fully appreciate until it happens to you.
The month of March was filled with a lot of activity, fun and no tornadoes!
According to Google we had a very successful month of March with the following:
711 people saw my business on Google Search
188 people saw my business on Google Maps
82 people found my phone number on Google and called my business
66 people asked for directions to my business
It takes a strong commitment and dedication from the entire staff, coupled with loyalty from the clients for a business to continue and prosper beyond multiple generations.
Client loyalty is about earning people's enthusiastic commitment to a relationship that will improve their lives over the long run. When clients trust we have the capability and commitment to help build their success, they will commit to doing the same in return. But they must see more than good intentions and kind words.
Our founder, Al LaGrone started this business over a half-century ago with a rational plan and a high value placed on personal relationships. Today I have relationships with clients in all fifty states and several foreign countries. I want to thank you all for your continued trust you've shown in me and the staff.

News from Cook & Co. Tax Advisors at 124 South Main Street in Arab, Alabama.

Latest posts by Gregory J. Cook, EA, CPA (see all)