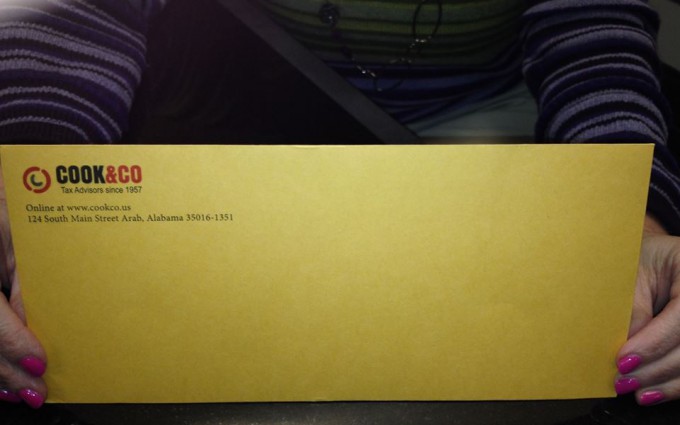 News From Cook & Co.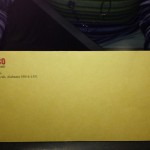 Since launching our secure internet portal two years ago, more and more clients have elected to receive their "keep copies" of tax returns electronically. As a result, we are ordering the over-sized big red envelopes by the hundreds now instead of thousands. For those taxpayers that must send a check to the federal or state governments with balance due vouchers or quarterly estimated tax payments, we still mail paper vouchers and pre-addressed envelopes for their convenience.
We've been using those big red envelopes for many years (more than 35 years for sure). In fact, those things have become a trademark of our tax practice. It reminds me of a story from the mid-80's when a young couple met at college and eventually married. They were both attending Ole Miss in Oxford. When the time came for them to file their first joint tax return they went and dug out their copies of the prior year returns that their parents had handled for them.

They were shocked to learn that their families had a connection that they had not known about when they each presented a big red envelope from Bara Business Service in Arab, Alabama. The young couple laughed at the Deja Vu experience and decided to make the trip to Arab for their first tax filings. They are still clients today.
It is memories like this from our rich history at the firm and I have many of them, that make me a little sad to see things change. However, change is inevitable and often times necessary. We used to print three paper copies of tax returns; one for the government, one for our paper files and one for the client to keep. In 1989 we began filing returns electronically so we only had to print two copies: one for us and one for the client. Around 2000 we began printing our file copy electronically rather than paper.
Technology has evolved and the time has arrived that wide-spread availability of secure, fast internet connections and devices that utilize the internet have made it's use an expectation rather than an exception. And with the diminished need for paper comes a new, much smaller envelope. I see a time in the very near future when it will no longer be required. The new mailer will have a much shorter life expectancy than that old big red envelope that I'm sad to see become extinct. So I hope you will embrace it because it too will soon be a collector's item.
A picture of the big red envelope on our Facebook page.

News from Cook & Co. Tax Advisors at 124 South Main Street in Arab, Alabama.

Latest posts by Gregory J. Cook, EA, CPA (see all)