Closing Alert Due To Weather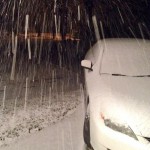 We will be closed today due to the severe weather. It appears that we may be closed tomorrow as well if the predictions for 3″ to 5″ of snow tonight are correct. We had clients scheduled from Birmingham to Huntsville. Clients coming from the north will not be able to make it up Brindley Mountain. It appears clients coming from the south should not attempt the trip either. For tomorrow, please call before you come.
The forecast has been pretty much on track overnight. Lots of snow along the U.S. 278 corridor (about 10 miles south of us), icing issues just north of I-20 due to freezing rain affecting our Birmingham clients. The Birmingham Airport is now reporting a temp of 32 degrees. Freezing line continues to inch southward. Bridge icing should begin very shortly in the B'ham metro. Sleet/snow/freezing rain around Gadsden with sub-freezing temperatures.
Cullman EMA has closed a number of streets within the city of Cullman (20 miles west of us), and all travel across Cullman County is discouraged. Icy roads and bridges are also reported across much of Winston and Blount Counties.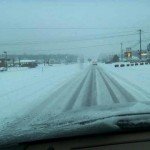 Our Mayor, Bob Joslin took this picture on the Parkway in Arab this morning.

News from Cook & Co. Tax Advisors at 124 South Main Street in Arab, Alabama. We are currently hiring. If you or someone you know is interested, email greg@bara.net with resume.

Latest posts by Gregory J. Cook, EA, CPA (see all)